YOUR 8 WEEK "TIME EFFICIENT – GET ME INTO THE GYM" PROGRAM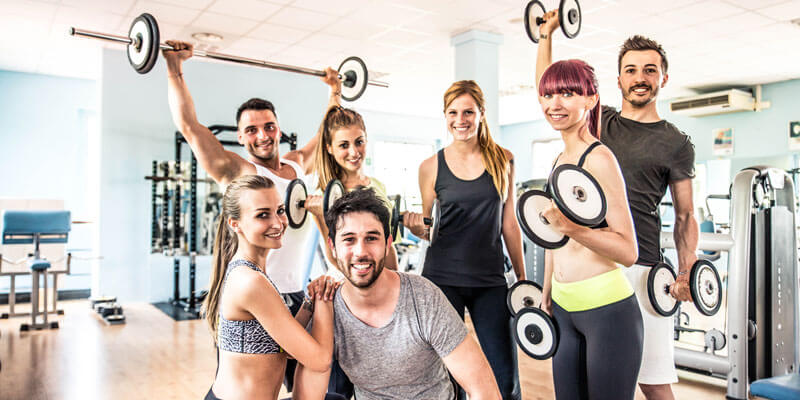 Do you want to get fit, lose weight, get stronger, or improve your general health? How do we achieve all of that, given our time constraints, our energy levels, and our motivation? Do we have to exercise 5 to 7 days a week for hours at a time, or will a 30-minute workout every other day suffice?
As it turns out, the questions are easy, it's the answers that are complex. But they can be solved if we use a little bit of anatomy and physiology knowledge to help us along the way. According to the International Dance and Exercise Association (IDEA), the number one reason quoted as to why we don't work out is 'time'. We simply don't have enough of it. We agree, time is a challenge. The number two reason, is motivation. When you combine them together, we have a cocktail of reasons that keep us away from the gym or from any form of exercise altogether.
However, imagine if we could design an exercise program that is time efficient, and can also meet all of the goals above, – improved fitness, weight loss, greater strength and overall improvement to health. As we know from exercise psychology, through achieving goals we find that our motivation levels increase and we are inspired to work out more, rather than sit on the couch.
We understand that even thinking about working out in a gym can be intimidating, and everyone seems like they know what they are doing and already look so fit. We often feel when we are starting out that we need to work out every single day and for hours at a time, however, that simply is not the case. Just type exercise into google and you will be presented with a plethora of the latest and greatest exercise programs, however, it doesn't mean they are right for you.
The truth is, with a few key moves, we can exercise every single muscle in the body, increase our strength, our fitness, look after our heart, look and feel great and get more done in less time, and who doesn't want that? The best part, it can be done in 30 minutes every other day.
The combinations of exercises and exercise programs are as endless as your knowledge and imagination, however, for the purpose of getting you into the gym and getting started, we are going to try a step by step approach.
Step #1
Warm Up – This warm up can be many things, but since we are about to train the whole body, we want to complete a warm up that does exactly that – warms up the whole body. Our exercise of choice is the Cross Trainer and the Concept II Rower. If you choose the right level and perform at the right intensity, 5 minutes should be sufficient to warm up your heart, your muscles and get your mind ready to train.
Step #2
Whole Body Weight Training – When performed correctly, weight training can be safe, efficient, and provide you with everything you need to achieve your goals, whatever they may be for the rest of your life. Weight training is like the foundation of your home. You may not see the work that goes into it, but without it, everything else, just falls down.
For the purpose of this article, we are going to give you 6 exercises to do, (5 x Strength and 1 x Cardio) that not only cover every muscle in the body, but also have many variations to keep you from getting bored. Boredom is the third reason quoted by IDEA as to why we don't exercise. Now, the only two requirements, we ask of you are that: 1) You do as many repetitions per set until you cannot do another to the same quality 2) You minimise the rest you take between exercises and between circuits. It is here where you will find results.
Your 8 week 'Time Efficient – Get me into the gym' Program
| | | |
| --- | --- | --- |
| Exercise     | Exercise / Option | Reps to Failure |
| 1 | Dumbbell or Barbell Bench Press / TRX Push Ups | 1 set of Maximum up to 25 Reps |
| 2 | Lat Pulldown / TRX Incline Rows | Maximum Reps @ 50% Body Weight |
| 3 | B/B Clean & Press / or Walking Lunges with overhead weight plate | Maximum Reps @ 25% Body Weight |
| 4 | Med Ball or Weight Plate Sit Ups / or Plank | 25 Reps with a 5kg Medicine Ball |
| 5 | Walk or Run 400m / or SPARC 90 seconds | Increase speed (1km/hr) or incline (1%) each run |
Repeat Circuit 3 – 5 x.
Step #3 – Cool Down
This is essential for bringing your heart rate, core temperature and blood pressure back down before leaving the club. The beauty of the cool down is it only has to last for 5 minutes.
For those who are time poor, this 30 to 40-minute workout can be performed twice a week to achieve an increase in fitness, increase in strength, decrease in body fat and an increase in general wellbeing. For those of you who are looking for a little more, you can perform this every other day.
Just remember, every program is only as good as the effort that goes into it. After completing this for 8 weeks, talk to your personal trainer about changing some exercises to give you some variety. In the end, health, fitness and wellness is a journey, not a destination, and a journey of a thousand miles, starts with a single step. Just make sure that step is into the club for a healthier and fitter you.